The Chinese Language Program welcomes students to register for Chinese Heritage courses! You can find some inspiring testimonials from your peers in the video below.
The diverse student body at the University of British Columbia has a considerably large community of Chinese heritage students. But what really makes a Chinese heritage student? While they might find a sense of belonging in shared culture and heritage, the community in fact consists of individuals from a wide range of multifaceted backgrounds. They might have grown up in a Mandarin, Cantonese, or Chinese dialect speaking environment. They might have found themselves spending all of their precious Saturdays at a Chinese school, but still struggling to order their desired bubble tea. Or perhaps they are able to hold a conversation with their family, but still find themselves relying on the translation feature in order to read their social media messages. The UBC Chinese heritage courses aim to help heritage learners overcome such obstacles by celebrating their unique experiences within a flourishing learning community. There, heritage students have numerous chances to come together and pursue the shared goals of improving their Mandarin, exploring their cultural roots, and embracing their own identities in a flexible and supportive environment. Through thoughtfully designed heritage Chinese courses at the UBC Chinese Language Program, students will enjoy meaningful learning experiences that they will carry with them through academia and beyond.
Why take heritage Chinese courses?
The Chinese Language Program's stream of heritage courses are designed with the central goal of helping students explore and strengthen their cultural identities. With the multifaceted differences of each student in mind, heritage Chinese courses focus on the distinctive aspects of Chinese cultures, helping students to explore their cultural roots in relation to their families, classmates, and communities.
100-level and 200-level courses are project-based, theme-oriented and community-engaged. 100-level courses focus on family and social life through Chinese cultural lenses, looking at traditional holidays, customs and greetings, as well as kinship relations. 200-level courses concentrate on history as well as modern society and culture, examining films, folk stories, historical figures, bilingual experience as well as modern culture. For instance, past courses have covered films such as The Farewell, Crazy Rich Asians and the martial arts (wuxia) classic, Hero. These topics aim to broaden students' views on their identities with regards to the heritage communities around them.
The heritage Chinese courses emphasize individualized learning, providing students with the flexibility to focus on different aspects of language learning, such as speaking, presenting, character writing, expanding of vocabularies, and also enhancing knowledge acquisition and cultivating critical thinking skills. At the same time, the collective learning community in the heritage course stream allows students in the same class, who are of different levels, to learn from each other and increase their proficiency together. Through each term, students will grow in their comfort to hold conversations with native speakers, build their intercultural competency, and learn to elaborate on their own identities.
These courses are designed for students who wish to build on their linguistic skills in Mandarin and acquire a deeper understanding of their cultural heritage. Please note that students must take a placement test before registering in any CHIN courses.
 Learn more about Heritage 100 Level Course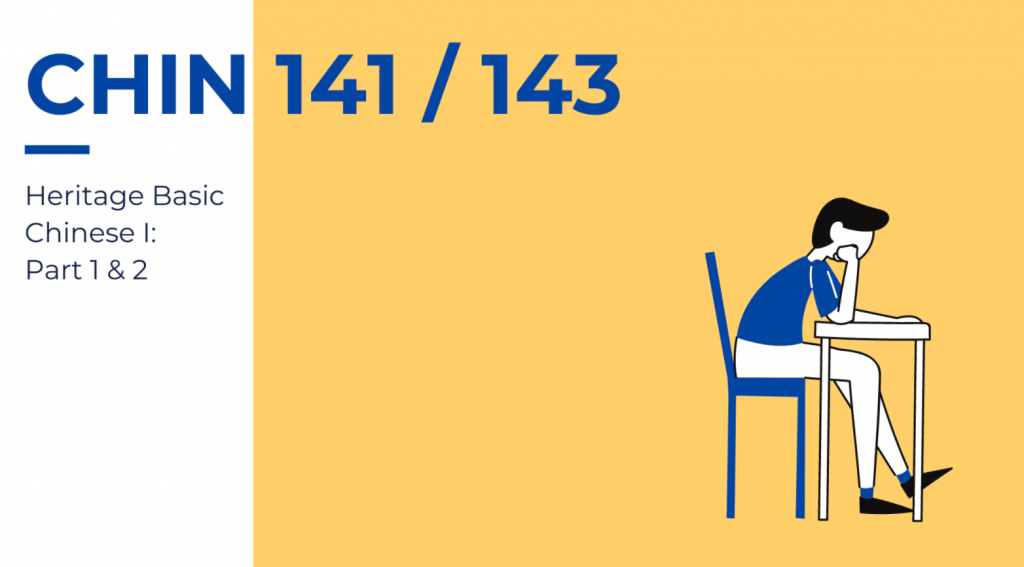 CHIN 143 & 143: Basic Chinese I: Part 1&2 (Heritage)
CHIN 141 and 143 are introductory courses intended for language learners who have a heritage Chinese background and native speaking ability, but with little or no knowledge of written Chinese.
These courses aim to develop students' communication abilities and confidence in listening, speaking, reading, and writing Chinese, with particular emphasis on the last two aspects. Specifically, for students who take CHIN 141: Basic Chinese I: Part 1 (Heritage), they will focus on discussing personal and familial relationships, as well as daily activities, in Mandarin. Those who continue on to CHIN 143: Basic Chinese I: Part 2 (Heritage) will learn about aspects of social culture. Students will have opportunities to participate in oral practices once a week with native Mandarin speakers, develop their independent thinking and conversational skills, and gain confidence in expressing their own ideas in Mandarin in both writing and speaking.
Students taking CHIN 141 and 143 will have the opportunity to study in a flexible and supportive classroom environment, learning not only from the teacher but from their peers in a constructive learning community. When asked about their experiences in Chinese heritage courses, Ashley, a second-year Psychology major, emphasizes the welcoming and positive class environment in her heritage courses.
---
"All the professors are very approachable, and classmates are also a great resource. Because everyone has different levels of knowledge, there is always someone who can help and offer guidance!"
Ashley Zhu, a second-year Psychology student
---
Susan, who is a first-year Science student, similarly offers insight on her learning experience: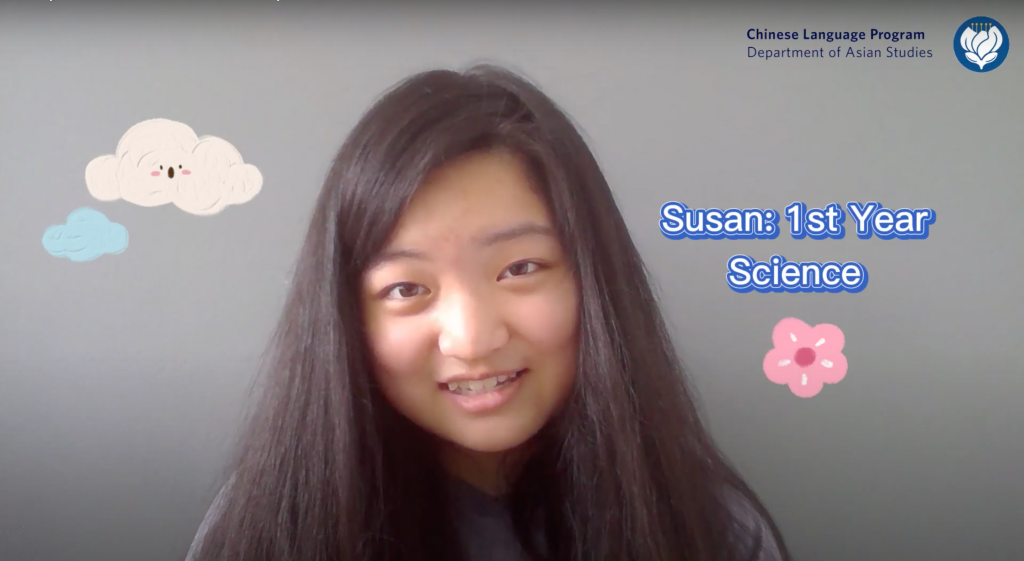 ---
"Professors are very supportive of your learning goals and aptitude, you can always reach out to them and they will be happy to help you personalize your learning."
Susan Zhang, a first-year Science student
---
Heritage Chinese courses are also full of students who find it easy to connect with each other not only via shared heritage, but also through appreciating the differences in each other's background. Shirley, a third-year student and native Cantonese speaker, conveys that interacting with students of diverse backgrounds has considerably helped her with language learning.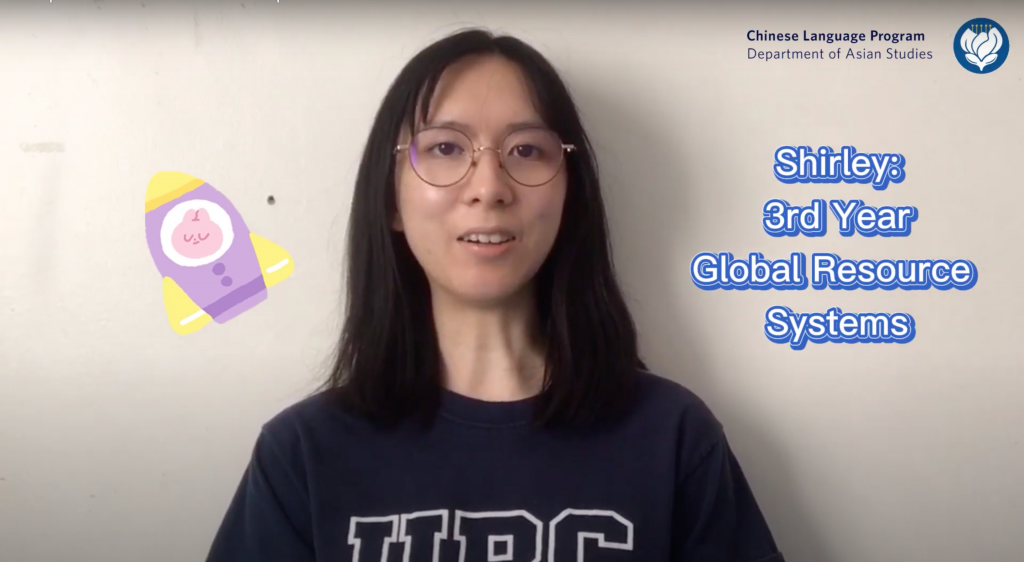 ---
"I have formed new connections and deepened my involvement in the Mandarin community at UBC and also of Greater Vancouver, which allowed me a deeper engagement with the material."
Shirley Ting, a third-year Global Resource System student with a Cantonese background
---
Intercultural learning is a huge benefit of taking CHIN 141 and 143, laying the foundation for students to not only bond with Chinese communities, but also gain enhanced cultural understanding as well.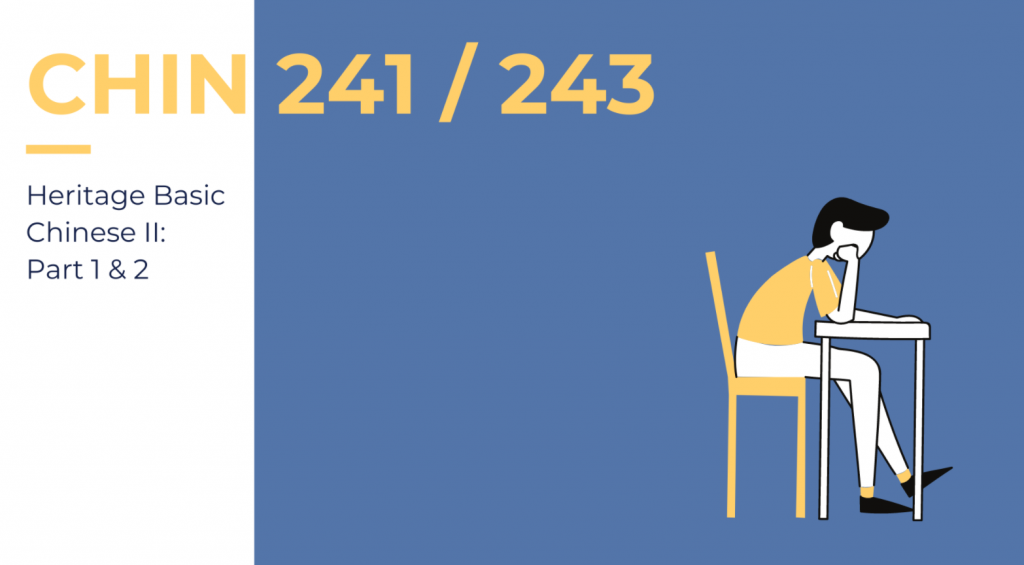 CHIN 241 & 243: Basic Chinese II: Part 1&2 (Heritage)
CHIN 241 and 243 expand on the concepts explored in CHIN 100-level heritage courses and continue to develop students' speaking, reading, listening, and writing abilities, as well as their cultural understanding.
Students who take CHIN 241 will delve into traditional and modern Chinese culture, focusing on topics such as Chinese customs, important historical figures such as Confucius and Mencius, as well as popular modern topics. Students who continue on to CHIN 243 will further explore the topic of identity, particularly in relation to food, cultural practices, and language education. They will investigate different cultural perspectives through films such as The Farewell and Crazy Rich Asians. While exploring deeper into more culturally entrenched concepts of Chinese language and culture, CHIN 241 and CHIN243 are designed to feature dynamics that encourages students to take control of their own learning and provides students with a more personalized and special learning experience. Tim, a fourth-year International Relations student, appreciated and loved the individualized Chinese learning experience at UBC: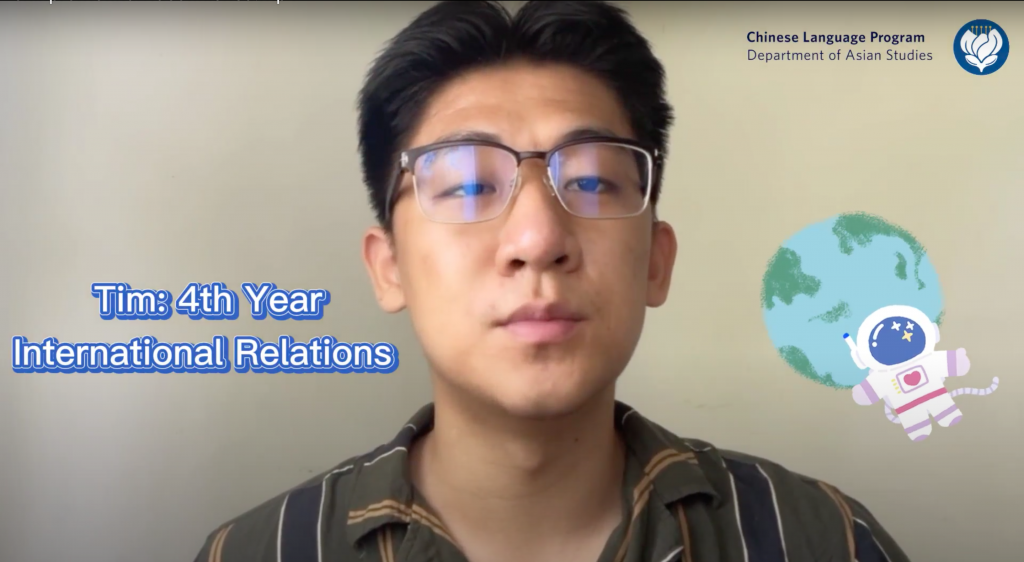 ---
"All of the instructors really encouraged us to dictate our own learning. Through all of our discussions, and projects, everyone had the ability to showcase their own creativity regardless of their skill level."
Tim Tam, a fourth-year International Relations student
---
Kelly, a first-year International Relations student, adds that there are so many ways for a student to be creative in this class.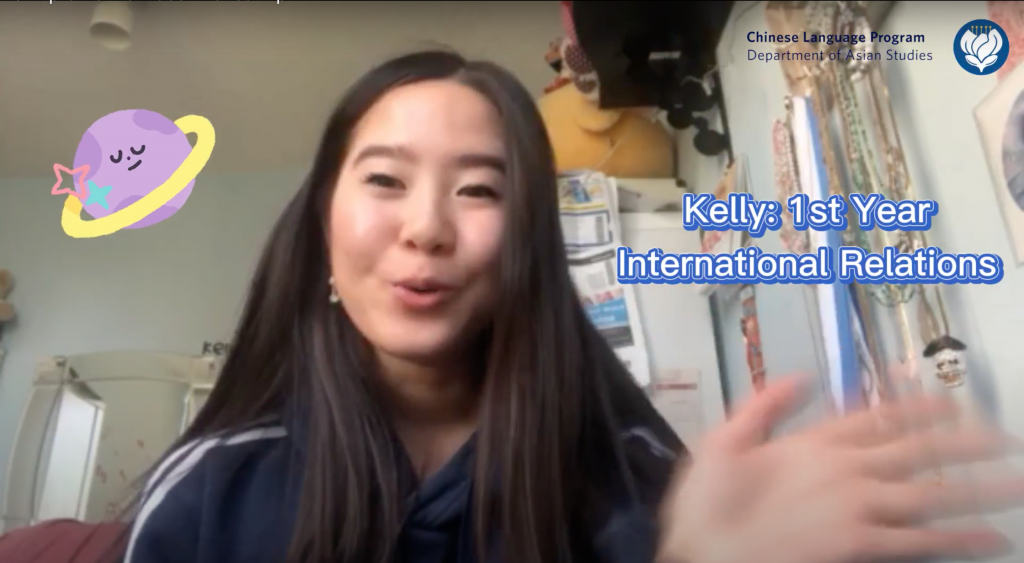 ---
"The final project was also a very fun experience, because you can choose to explore anything you are interested in, the possibilities are endless!"
Kelly Tan, a first-year International Relations student
---
Just as with the 100-level courses, students will be able to develop their speaking skills by conversing with native Chinese speakers. They will also be able to narrate stories, express their personal opinions, and compare different viewpoints using socially and culturally appropriate Chinese.
The heritage stream of Chinese courses are designed with inclusivity of all skill levels and identities in mind. With its heritage Chinese courses, the UBC Chinese Language Program not only helps students improve their linguistic proficiency, but also forms a supportive and inclusive community that aims to nurture and cultivate heritage students' understanding of their own individual identities and culture.
Students are welcome to join us!
You can also find more interesting heritage courses here:
Introduction To Heritage 100 Level Courses
Introduction To Heritage 200 Level Courses
Introduction To Heritage 300 Level Courses
Introduction To Heritage 400 Level Courses