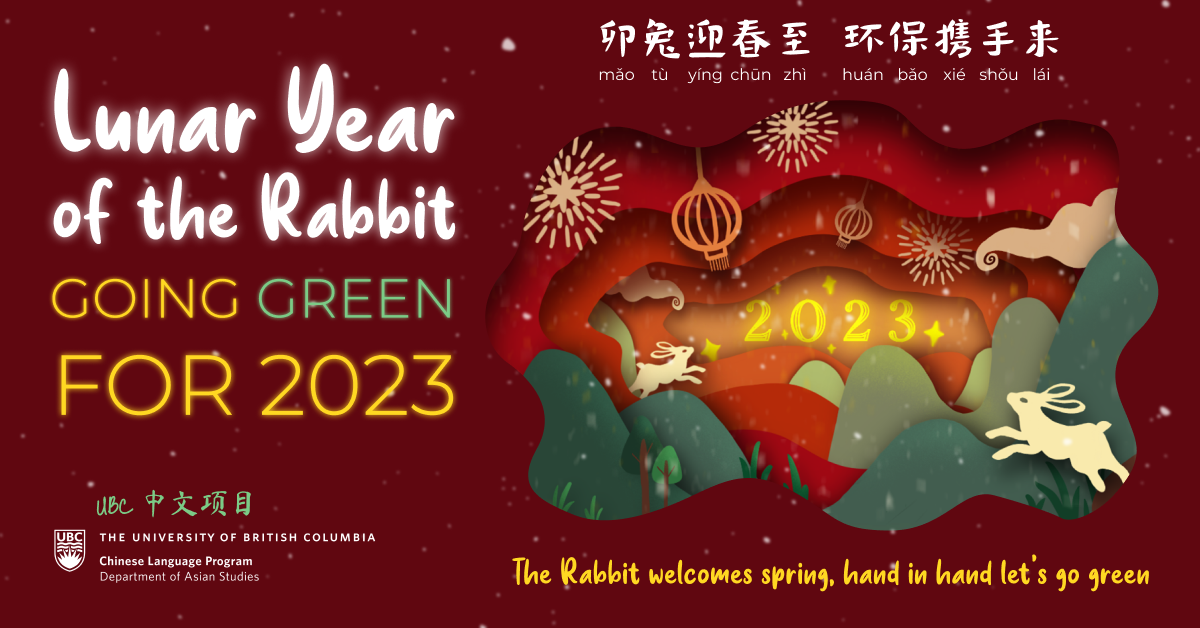 📆 When

📍 Where

 

❓ Who

Submissions Open:
Jan 12th – Jan 21st 

Submission Posts:
Jan 22nd – 29th 

Submit your video before  Saturday, Jan 21st @ 11:59pm PST

All CHIN Students are Welcome! 
2023 is the year of the Rabbit. It is known to be a tame and gentle creature with a good temperament! As such, the Rabbit is a symbol of longevity, peace, and prosperity in many East Asian cultures. According to the Chinese Horoscope for 2023, things will finally start to fall into place and being to work out!
To ensure longevity, peace, and prosperity, being eco-friendly is crucial. Just like rabbits, let's be kind and tender to our environment. As such, the Chinese Language Program (CLP) encourages you to get creative as we invite you to celebrate one of the biggest festivals in East Asia and promote "Going Green" with us.
⚓ Table of Contents
---
【Calendar】
SUN

MON

TUES

WED

THURS

FRI

SAT

1/1

1/2

1/3

1/4

1/5

1/6

1/7

1/8

1/9

1/10

1/11

1/12

Submissions Open

1/13

1/14

1/15

1/16

1/17

1/18

1/19

1/20

1/21

除夕

Submissions Close

1/22

初一

Posts Begin

1/23

初二

1/24

初三

1/25

初四

1/26

初五

1/27

1/28

1/29

Posts Finish

1/30

1/31
---
【Purpose of Event】
To share our culture with language learners in the context of our most important traditional festival, and have fun celebrating it together.

 

To foster a sense of environmental awareness and translate it into operational action.

 

To provide you with an opportunity to share your creativity and practice your language use.

 

To embed intercultural and environmental awareness into our language learning curriculum.

 
---
【Video

Instructions】
Create and submit a video including the elements of the "rabbit" and "going green/eco-friendly".  
Through this opportunity, earn the chance to have your video posted on the CLP's social media, practice your Chinese language use, and embrace the Lunar New Year with us! 
ℹ️ Key Elements in the Video
The following elements must be included:
A brief introduction of yourself (and your teammates) at the beginning of the video, which should include your English and Chinese names, as well as the Chinese course you are currently taking.

 

Each individual involved in the submission MUST be visible in the video.

 

Auspicious words or phrases for the Year of the Rabbit. Use these videos for your reference:

 

Promotion of "environmental protection" or "green" practices (E.g. Demonstrate and/or tell us how you would celebrate the Lunar New Year in an environmentally sustainable way). Check out these online resources:

 
🎬 Optional Elements To Include in the Video
A summary of the past year and expectations for the New Year.
Different ways of expression in the video: dancing, singing, painting, performing musical instruments, etc.
⚙️ Video Format
The video is required to be in a vertical orientation (e.g. 9×16 aspect ratio, ideally 1080 x 1920 pixels) and should be an MP4 file.
Mobile phones or other camera devices can be used to guarantee high-definition (HD) video quality of at least 1080P.
Visual effects are highly recommended and encouraged, as is the inclusion of both English and Chinese (simplified or traditional) subtitles.
See【Breakdown of Language Proficiency】for requirements on the length of the video.
📝 Video Title Format
Course code + section code_Your name(s)
Example: CHIN131 001_John Lee.mp4
🚨 Important Notes for the Video Submission
Please keep your video PG-13, inappropriate videos will be disregarded.
NO depiction of alcohol, alcohol usage, or scenes of a similar nature in the video.
NO political propaganda or controversial figures, icons, etc. in the video.
If you choose to use copyrighted material in your video (e.g. images, video clips, music, sound effects), please credit the original creator in your video.
🐇 Example Video
Check out this example video below!
---
【Breakdown of Language Proficiency】
Based on the course you are taking, you are grouped into a corresponding challenge level as outlined in the table below.
Group 

Group 1 – Basic Level 

Group 2 – Intermediate Level 

Group 3 – Advanced Level 

Non-heritage Language Class 

CHIN131, 133, CHIN233 
CHIN333, CHIN337 
CHIN403, CHIN407 

Heritage Language Class 

CHIN143 
CHIN243  
CHIN343, CHIN347, CHIN437, CHIN443 

Literature Class 

– 
–
All Literature Courses 

Video Length 

(limit to 1-3 students) 

1 student: 30s – 1 min

2 students:  1-2 min

3 students:  2-3 min 

1 student:  1-2 min

2 students:  2-3 min

3 students:  3-4 min

1 student:  2-3 min

2 students:  3-4 min

3 students:  4-5 min

Speaking Language Used in Video  

Mandarin or mix with your native language  
Mandarin only or mix with other Chinese dialect 
Mandarin only or mix with other Chinese dialect 

Number of Auspicious Words or Phrases

At least 5 characters 
At least 10 characters 
At least 20 characters 

Subtitles

English 

English 

English 
Note: Students from CHIN388 can join ONE of the three groups which best suits their current language proficiency.
---
【Instructions for Video Submission】
Step 1:Upload video to Google Drive and obtain a shareable link
Upload your video submission as an MP4 file to your own Google Drive, then configure link sharing to "Anyone with the link can view/edit".

 

 

If you are unsure of how to create an editable link, please refer to the following video for a demonstration of how to configure link-sharing:

Google Drive: Link sharing (anyone with the link can view/edit)

.

 

Please note that Google Drive is used for this event, so be aware of the privacy concerns related to Google and take precautions in using the service.
Step 2:Submit your work by completing this survey
If you are in a group, each person needs to make an individual submission.

Before filling in the survey, you will need the following information:

 

All the group members' English full names, Chinese names, and their current Chinese course and section number

.

 

Editable Google Drive link of your or your team's video submission.
NOTE: By participating in this activity, you give the Chinese Language Program the right to use and/or post your image and caption on our social media, website, and newsletter, unless you state otherwise in your submission. 
---
【​

​

​

​
Important Reminders】
Submissions are due

Saturday, January 21st, 11:59PM PST

through this

link

!

 

Please be aware that your video might be featured on our Instagram, Facebook, and website so people can share your wishes and celebrate this special festival with us! If you would like us to post your video anonymously, please clearly state it in your submission.    
Bonus marks only apply to CHIN students.  
Do not forget to submit your work to the bonus mark assignment page on your course Canvas site.

 
If you have questions about the challenge, please feel free to contact us at Chinese.event@ubc.ca.