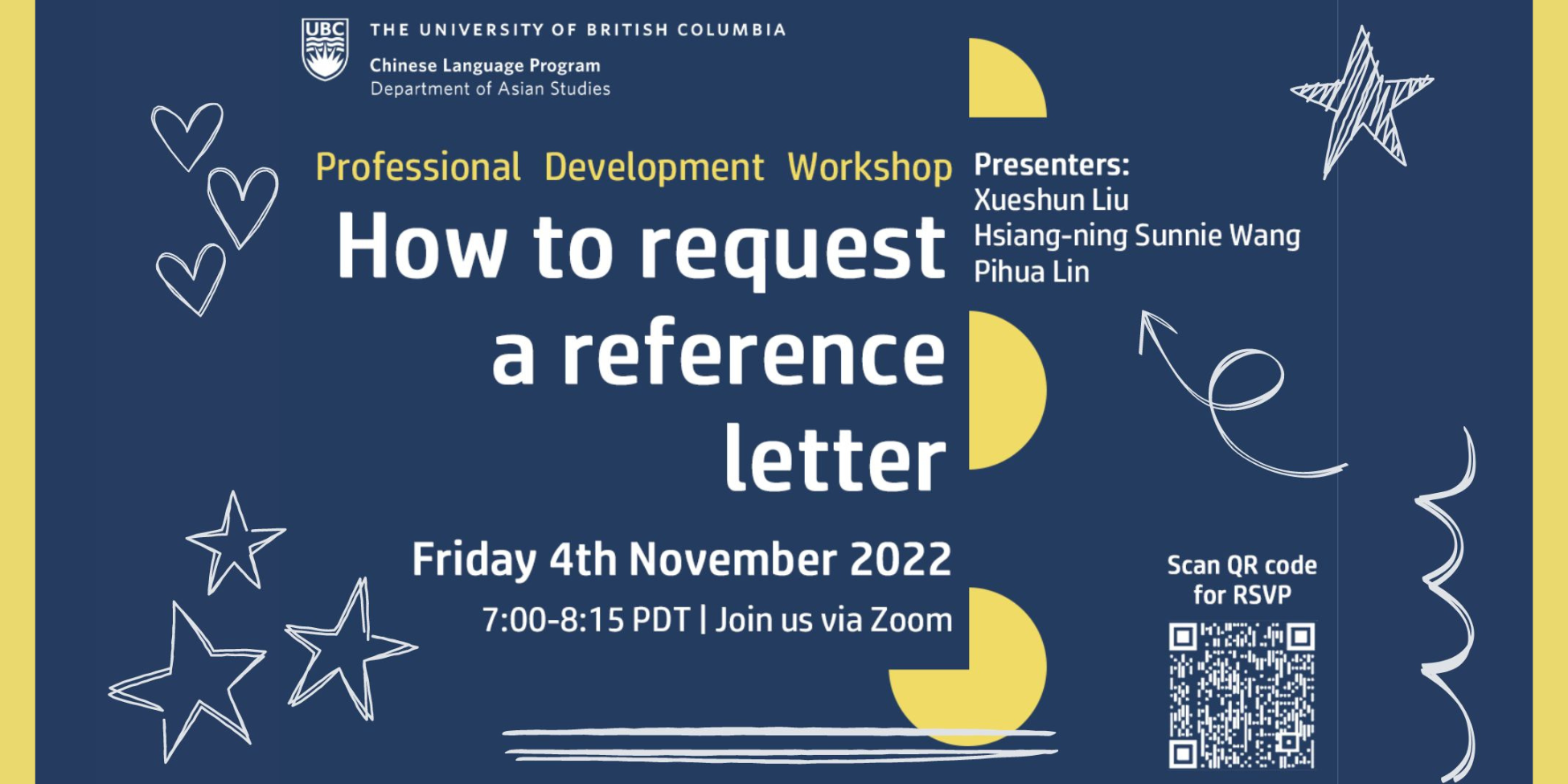 For many students applying for a job, scholarship, or graduate school, finding a reference who can vouch for their skills, attributes, and accomplishments from a professional perspective is critical.
On November 4th, 2022, the Chinese Language Program (CLP) hosted Professional Development Workshop on How to Request a Reference Letter, attracting over 100 current Teaching Assistants, Work Learns, and program Volunteers. Packed with knacks for success, the virtual event featured CLP instructors giving presentations to help students gain practical skills in requesting reference letters from the CLP.
Lecturer Xueshun Liu informs students of CLP's reference policies.
At the beginning of the workshop, Dr. Xueshun Liu, supervisor of the CLP Volunteer Committee, introduced the types of volunteer reference letters available and the requirements for requesting such documents from the CLP.
In her engaging talk, Dr. Hsiang-Ning (Sunnie) Wang, CLP Coordinator, shared personal insights from a professor's perspective and touched on the etiquette students should consider when requesting reference letters.
Some of Professor Wang's valuable tips:
Be Prepared: Remember that you are the one who lays the foundation of a strong, positive reference. Make sure to build a solid record of your knowledge, skills, accomplishments, goals, and academic work from the beginning. Start the process long before you must provide your professor with specific reasons why they recommend you.
Be Informative and organized: Besides a copy of your resume, it is crucial to include key details about the program or job you're applying to, like the program name, requirements, and the deadline for the reference letter submission. The more information you give your professors, the more they have to write about.
Be Considerate: How you present yourself to a professor plays a significant part in how willing they are to help you. Be respectful, re-introduce yourself if it's been a while, and explain why you ask them to be your reference.
Professor Hsiang-Ning Wang zooms in on the top 10 attributes to be reflected in a good reference letter.
When preparing reference letters, a professor's workload is substantially more than what we see on the surface and can often be underestimated by students. It is best to work around your professor's schedule, said Professor Wang. As your professor spends valuable time working on your reference letter, it is polite to show your appreciation. Showing your gratitude and following up consistently with your reference can help you gain continued support in your endeavors. At this point, Professor Wang showcased concrete examples, along with instructional guidance, of how students with fine etiquette and ample evidence of capabilities have best helped her in the writing process.
Lecturer Pihua Lin actively answers students' questions through Slido.
At the end of the workshop, an interactive Q&A session was led by Lecturer Pihua Lin to further assist students in exchanging concerns and ideas about requesting reference letters. The platform Slido allowed everyone to raise questions or make comments, bringing the most important topics to light throughout the workshop.
Yutong Song, CHIN 131 Teaching Assistant and a third-year student majoring in Psychology, shared what she learned from Professor Wang's personal stories.
Yutong Song, CHIN 131 TA and a third-year student majoring in Psychology
"The most exciting part of this workshop was when Wang Laoshi shared tips from her own experiences on the successful ways previous students communicated with professors through effective emailing strategies and prepared organized materials promptly. If you think more for your professors to reduce their workload, they are able to help you greater in return."

– Yutong Song
Irene Zhang, Social Media & Event Team Work Learn and a fourth-year student majoring in Commerce, talked about the transferable skills to take away from the workshop.
Irene Zhang, Social Media & Event Team Work Learn and a fourth-year student majoring in Commerce and minoring in Asian Studies
"Although the official topic of this workshop was about how to request reference letters, the actual scope of the session included critical skills such as email etiquette, building stronger interpersonal relationships, and developing soft skills, which are all easily transferable to any career field and are especially important for students looking to apply to graduate schools or enter the workforce."

– Irene Zhang
Indeed, the practical takeaways from this workshop go beyond the professional standards students should take on when asking for reference letters. Emma Zhong, Oral Practice Work Learn and a second-year student majoring in Political Science and International Relations, remarked on how relevant the transferable skills are to facets of life.
Emma Zhong, Oral Practice Work Learn and a second-year student majoring in Political Science and International Relations
"Effective communication is one of the practical takeaways I got from the workshop. I now consider it not only crucial in the context of reference letter requests but a reflection of who we are and how much we've put our heart into considering the needs and feelings of those we seek help from."

– Emma Zhong
Each year, the CLP puts on a series of Professional Development Workshops to guide students through the versatile skills required to stand out in the competitive job market. A key component in the series, the Reference Letter Workshop is offered to specifically highlight the important assets of communication and time management for TAWLs and volunteers. Aside from benefiting their academic achievements, the CLP is poised to build a learning-based community where students may foster their personal and professional growth before setting sail for successful careers.
CLP instructors, TAs, Work Learns, and volunteers gathering over Zoom during the workshop
For future Professional Development Workshops and similar events hosted by the CLP, please stay tuned with @ubcchinese on Instagram.
Written by Angelia Tu