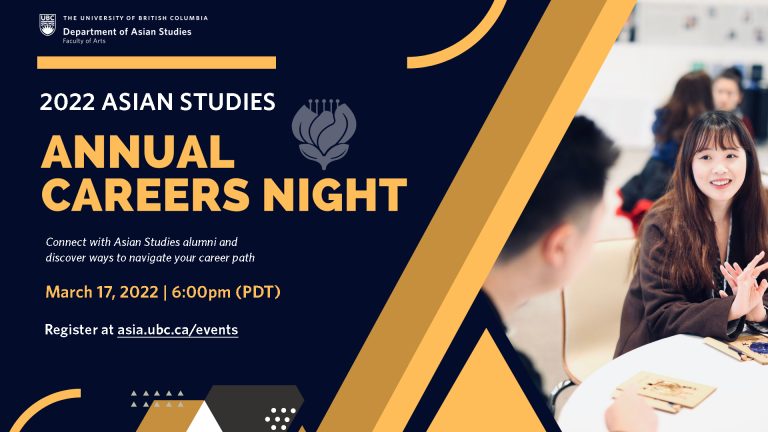 The Department of Asian Studies is delighted to invite you to our annual Careers Night! Navigating life after graduation can be hard, so each year we bring in alumni with diverse experiences – at home and in Asia – to inform and inspire current students. This event will feature a panel discussion and a round-robin networking session. You will also have a chance to win raffle prizes (Asian Studies Merchandise)! Careers Night is the perfect opportunity to make connections, meet fellow Asian Studies students, and feel more confident in taking the next steps on your career path.
DATE
Thursday, March 17, 2022
TIME
6:00 PM – 7:30 PM PST
COST
Free | Online registration is required
LOCATION
Held online via Zoom
As a student:
Ask the burning questions about what a degree in Asian Studies has to offer
Gain extremely helpful networking tips (e.g. How to Use LinkedIn 101)
Meet your fellow undergraduates and learn about their career and academic plans
Gain an excellent head-start in planning your next move during and after UBC
As an alumnus:
Share what you did at UBC that helped you succeed
Share your experience in navigating through your career field and finding the right fit for you
Give back to your alma mater by providing your insights to the students of what they should be expecting
Meet and make connections with other alumni, faculty, and students
Meet potential employees among our diligent and passionate students
---
2022 Event Program
6:00 pm – Welcome
6:10 pm – Asian Studies Alumni Panel Introductions
6:20 pm – Moderated Panel Discussion
6:50 pm – Networking Session (in Zoom breakout room)
7:30 pm – Event concludes
Students will have the opportunity to ask all of our alumni panelists their questions about how they got their first jobs after graduating, how they have navigated through the 'real world', and how the COVID-19 pandemic may have impacted them (whether positive or negative).
---
Panelists
Zining Wang, BA '18 – Public Policy Manager, Huawei Canada

Zining is a Public Policy and Strategy Manager at Huawei Canada, a global ICT and consumer electronics technology company. Her daily work involves supporting the company's strategic planning, legislative initiatives, and policy analysis.
She graduated from the UBC Asian Studies department in 2018, with a double major in Economics and a minor in Commerce. During her time at the department, some of her best memories were learning Farsi, Japanese, and Chinese literature. She was also active in getting involved at the UBC ASIA Club, and being a Teaching Assistant at the Chinese Langauge Program.
Zining completed the UBC Arts Co-op program and worked for multiple offices on campus. Her time at UBC helped to find her passion in connecting Asia to the world — it led her to work for the Asia Pacific Foundation of Canada upon graduation and subsequently, her current role at Huawei.
Zining currently lives in Vancouver. She enjoys dancing, hiking, taking long walks and is hoping to adopt a puppy in 2022.
Ciaran Dudley, BA '11 – Culture and Public Relations Coordinator, Consulate General of Japan, Vancouver
Born and raised in Vancouver, BC, Ciaran first became interested in the Japanese language and culture during a high school exchange trip to Maizuru in Kyoto, Japan.
Upon graduating from St. Patrick's Secondary, he decided to travel to Osaka on a working holiday visa where he taught English for one year. After returning to Canada, Ciaran went to Corpus Christi College and then transferred to UBC, specializing in Asian Languages and Culture with a focus on Japanese. In his third year, he was given the opportunity to study abroad at Osaka University via the Go Global program before returning to UBC to complete his degree in 2011.
Shortly thereafter, Ciaran joined the JET Programme and was sent to Kumamoto City in Kyushu where he worked in city hall as a CIR (Coordinator for International Relations) for 4 years. He is currently employed at the Consulate General of Japan in Vancouver in the Culture and Public Relations Section.
💡 Ciaran's Arts Alumni Profile
Oliver Mann, BA '13 – Communications Strategist, UBC Community Engagement + Freelance photographer and videographer
Oliver is a digital communications professional with over nine years of experience working at the University of British Columbia and over a decade of experience creating digital content for a variety of clients and projects.
Starting his career in communications as a Work Learn student for the Department of Asian Studies, Oliver has worked in a variety of communications roles at Asian Studies, the Faculty of Arts, and recently joined the Community Engagement team within UBC External Relations. Outside of UBC, Oliver freelances as a photographer and videographer and has worked with large organizations like the Vancouver Whitecaps to small businesses like fashion startups and local modeling agencies.
Before picking up a camera, Oliver spent several years as a lead guitarist in a professional indie rock band, was signed to Vancouver record label Light Organ Records, and has toured across North America, Europe, and Asia. While a student, Oliver studied Korean and Japanese language and spent two terms on exchange to Ewha Womens University in Seoul, South Korea. While on exchange, Oliver also interned for British Columbia's Trade Office in Seoul.
Kristy Lin, BA '21 – Communications Specialist, SAP
Kristy graduated from UBC last May with a major in Asian Area Studies and a minor in Asian Canadian and Asian Migration (ACAM). Before her current role at SAP, she worked with the Initiative for Student Teaching and Research in Chinese Canadian Studies (INSTRCC) at UBC. In that position, she was able to combine both her studies in Asian Area Studies and Chinese Canadian Migration with her personal interests in digital media creation, video editing, virtual event planning and digital communications.
Kristy hopes to bring positivity wherever she goes and to influence especially younger, shy, and introverted females to be confident in themselves and to reach for the stars when it comes to both personal and professional development. She also loves traveling, learning about different languages and cultures, and documenting her life experiences and journey on social media platforms such as YouTube and TikTok (check out Kristy's YouTube channel and her TikTok).
📰 Kristy's feature in editorial piece "Finding our Seat at the Table: What Identity Means for Asian Canadians"
Richard N. Liu, BA '93 – Honorary Brigade Division President, St. John Ambulance, BC/Yukon
Richard explored China as a student attending Peking University that led to a rich 20-plus year career at the Canadian Embassy, the Swiss Chamber of Commerce, and Western Academy of Beijing, in areas of diplomacy, public relations, major events organization and education.
As a leader in the development of a wide variety of volunteer projects in China, Richard started the influential "Canadians in China" network; founded the rapidly growing Canadian Alumni Network (CAN) that brings together thousands of alumni currently in China who attended Canada's post-secondary institutions; and was one of the original founding committee members to start the very first Terry Fox Run for Beijing in 1999.
Since returning to Canada in 2014, Richard now sits on various boards; and advises companies and organizations on a variety of sectors pertaining to Asia; and was appointed the Honorary Brigade Division President for St. John Ambulance, Canada's leading first aid and safety charity, and one of the oldest humanitarian organizations in the world. Most recently, Richard was among 13 UBC Alumni to be recognized and awarded the 2018-2019 UBC Alumni Builder Award, and his citation read, "For his service, dedication, and contribution to UBC and it's alumni community." And he just returned from the Beijing 2022 Winter Olympics after serving as a Mission Staff member on Team Canada.
Paul Hsu, BA' 06 – Principal, St. Regis Secondary School; Chief Executive Officer, New Castle Japan Investment; Chairman of the Board, Canadian Housing Society 

Paul is a graduate of the Department of Asian Studies of 2006 and a graduate of the Masters in Asia-Pacific Policies Studies Program of 2008. He is the founder and current Principal of St. Regis Secondary School, a senior independent high school in Vancouver that is known for its reputation of sending students to top-50 QS Ranking universities around the world through the school's comprehensive and versatile education program.
Aside from his work at St. Regis, Paul also serves as the founder and CEO of New Castle Japan Investment, a transnational real estate investment firm that specializes in asset acquisition, property reconstruction, and long-term rental projects in Canada and Japan. He is also the Chairman of the Board of Canadian Housing Society, a non-profit organization whose primary mission is to provide sustainable, comfortable, and financially feasible homes for low-income and other disadvantaged members of the community in BC and NB.
Faiz Jaffar, BA '17 – Member Services Manager, AGN International
 
Faiz graduated from UBC in 2017 with an Asian Language and Culture (Chinese) major. While his time at UBC, Faiz took part in all kinds of Asian Studies departmental events, spent a year abroad, and appeared on national television in China. After graduation, Faiz received a scholarship to study in China, where he completed a Master's Degree of Chinese Law (LLM) at Renmin University of China.
While in China, Faiz has worked at a Chinese law firm, as legal counsel for a state-owned Fortune 500 company, and as a management consultant for international associations. In his free time in Beijing, Faiz volunteered with the Canadian Chamber of Commerce and the Canadian Alumni Network. Together with the Canadian Embassy to China, Faiz helped advocate for Canadian universities in China. For his work, UBC honoured Faiz with the title of UBC Alumni Ambassador to Beijing.
In 2022, Faiz returned to Vancouver, where he now works as a member services manager at AGN International. As manager he oversees membership activities for 10 offices across Canada. On weekends he likes to play Dungeons and Dragons (English-Chinese games, of course).
💡 Faiz's Asian Studies Alumni Spotlight feature
Rossa Sung, BA '01 – Management Consultant
Rossa graduated from UBC in 2001, double majoring in Political Science and Asian Studies. As a marketing professional, Rossa has over 25 years of global experience in the medical device industry. When she is not consulting or building businesses, she prioritizes her time by volunteering at her local parish and her children's school.