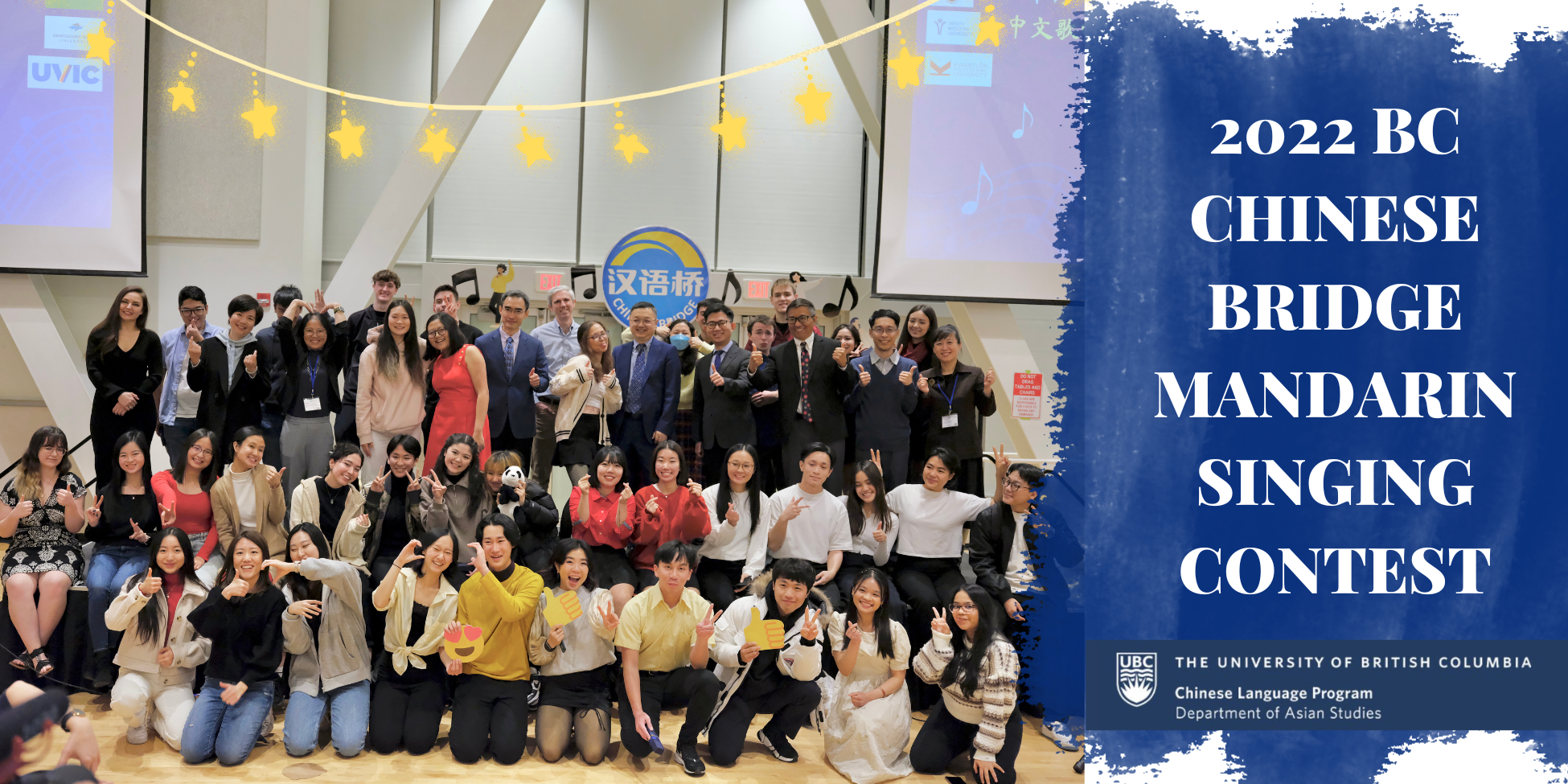 It all began with the merry sound of music whereby we heard enthusiastic companions along the journey.
On November 26th, 2022, the 2022 BC "Chinese Bridge" Mandarin Singing Contest raised its curtain on the UBC campus. Hosted by the Chinese Language Program in the Department of Asian Studies at UBC, and sponsored by the Consulate General of the People's Republic of China in Vancouver, the annual music festival provides a lively platform for the promotion of cultural exchanges as a solid basis for personal friendship and mutual understanding.
This year, the inter-university event attracted 13 student teams from 7 universities across British Columbia, including the University of British Columbia (UBC), Simon Fraser University (SFU), Kwantlen Polytechnic University (KPU), Trinity Western University (TWU), University of Victoria (UVic), Vancouver Island University (VIU), and the University of Fraser Valley (UFV).
With various Mandarin proficiencies, ranging from those who have learned Chinese for a few months to those with many years of learning experience, a diverse cluster of students took on the challenge of singing Chinese melodies with their common passion for the Chinese language and culture. The songs sung by the groups ranged from Chinese folk music to EDM and rock, representing the various approaches they took in learning Mandarin. One group after another, their stunning performances became the highlights of the day, bringing everyone closer under the spell of music.
With more than a dozen competing teams, the audience enjoyed the sight of a diverse exhibition of passionate students showcasing their enthusiasm and creativity in song choices and presentation through Chinese music. Unlike last year's online event, this year's in-person competition created a remarkably cohesive environment for students to engage with the Mandarin learning community, and become better acquainted with their fellow peers and long-term friendships established beyond institutional walls.
Contest Judges from various BC universities (from left): Dr. Yujia Jiang (UFV), Dr. Pin-Yun Wang (UVic), Dr. Cynthia Xie (SFU), Dr. Yanfeng Qu (KPU), and Dr. Qian Wang (UBC)
CLP Volunteers, TAWLs, and audience members cheering on the contestants
Family members, friends, and instructors of the contestants gathered at UBC to give their support and explore the educational experience at peer institutions. The contest location at AMS Nest Great Hall was packed with a lively audience of UBC students and a wider community who came out to engage with fellow Chinese culture enthusiasts.
Thanks to the CLP volunteers, who had dedicated their time and effort long before the big day dawned, the event was not merely a competition but became a cheerful cultural networking platform for every participant.
Stage & acoustic crew, photographers, and gift reception volunteers working hard behind the scenes
Guest Speakers: Consul General of China Yang Shu, and UBC Professor Christopher Rea
Two guest speakers, Consul General of China Shu Yang and UBC Professor in Modern Chinese Literature Dr. Christopher Rea, gave engaging speeches on the importance of language learning through music. According to Consul General Yang, "Learning how to sing is the best way to learn a language, and being able to speak Chinese will give you an abundance of job opportunities and cultivate meaningful relationships with Chinese people and culture." Moreover, Professor Rea used lighthearted ways to illustrate how a learner of Chinese should focus on not only the vocabulary but also the rhythm of a language, which is often brought out in songs. These elevating messages inspired students to explore diverse interests and approaches in their language-learning journey.
The wonderful MCs of the evening: Andrej, Polina, Dallan, Katrina, and William
Concluding this event, the contestants received trophies and certificates in 7 categories of awards, including First Place, Second Place, Third Place, Best Team Spirit, Best Creativity, Best Chinese Style, and Best Pronunciation. Whether with different proficiency levels or from different backgrounds, everyone's talents and efforts reveal the multifaceted aspects that play a crucial part in language learning. We are proud of their learning accomplishments as demonstrated at the ceremony.
Gallery View of the 2022 BC "Chinese Bridge" Mandarin Singing Contest Winners:
Best Pronunciation Award 最佳发音奖 awarded to "Team TWU Little Joys" from TWU, presented by UFV's Chinese Language Program Coordinator Dr. Yujia Jiang
Best Chinese Style Award 最佳中国风奖 awarded to "No Complaints and No Regrets Learning Chinese Team" from UBC, presented by UVic's Chinese Language Program Coordinator Dr. Pin-Yun Wang
Best Creativity Award 最佳创意奖 awarded to "The Best Team" and "Team Small Steamed Buns" from UBC, presented by SFU's Dual Degree Program Chinese Coordinator Dr. Cynthia Xie
Best Team Spirit Award 最佳团队合作奖 awarded to "Lonely Kids Team" from UVic and "Team Tofu Skin" from UBC, presented by UBC's Chinese Language Program Director Dr. Qian Wang
Third Place 三等奖 awarded to "Team NCT VIC" from UVic and "Team Autumn Leaves" from UBC, presented by KPU's Chair of Language and Cultures Department Dr. Yanfeng Qu
Second Place 二等奖 awarded to "Team Ice Cream" from UVic and "Grateful Team" from UFV, presented by Consul Chief of Education and Culture Office Jun Guo and UBC Professor in Modern Chinese Literature Dr. Christopher Rea
First Place 一等奖 awarded to "Team No Name" from UBC, "Team Jasmine Flower" from VIU, and "Team Treasure" from SFU, presented by Consul General Shu Yang
It is just natural to break into songs in a fruitful dialogue with each other. We sing heartfelt congratulations to all the prize winners and contestants of the 2022 BC "Chinese Bridge" Mandarin Singing Contest, for inspiring new forms of cultural dialogue. As a hub of educational and cultural activities, the Chinese Language Program at UBC is continuously dedicated to building a colorful learning community where individuals come together to create connections, foster curiosity, and celebrate diversity in various ways. With that tune in heart, we hope to see you again next year!
Enjoy the 2022 BC "Chinese Bridge" Mandarin Singing Contest Reel
Written by Angelia Tu
Photos by Tao Jin, Alex Liu, Chris Sang, and Ethan Xu
Newsreel by Molly Liao