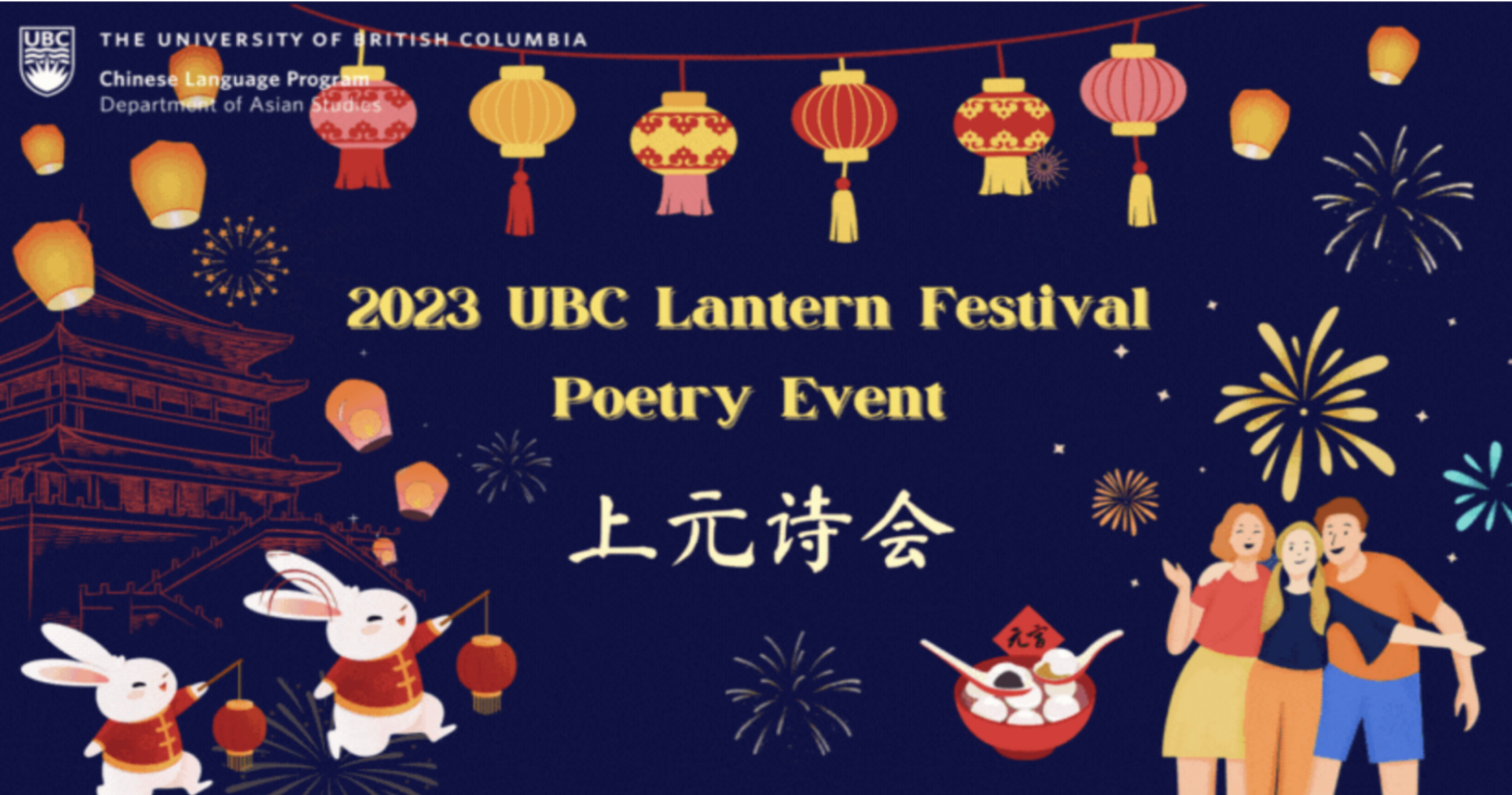 Over the past few months, from March 3 to April 9 2023, the fifth annual Lantern Festival Poetry Event organized by UBC's Chinese Language Program (CLP) took place in a wonderful and festive space. This extracurricular event has attracted significant attention this year, and it also promoted knowledge sharing between multiple languages in relation to different poetic traditions. To date, the event has collected more than 65 Chinese poetry submissions from students, and it has also shared 20 multilingual presentations given by distinguished guest speakers from the Department of Asian Studies, and the UBC Asian Library.  
This year, the Lantern Festival Poetry event centered on the theme of "reunion," which aimed for people to reflect on their reconnections with family and friends after the pandemic as they returned to their daily lives. The theme has given rise to a diverse collection of Lantern Festival-themed artworks and poetry created by all kinds of students in CHIN 450+ level courses, which are typically Chinese literature courses aimed to inspire students' appreciation for classical Chinese poetry. Each and every participant innovatively interpreted the theme of "reunion", and associated it with a vast variety of talented works. 
Welcoming all the participants on the homepage of the event website, Dr. Sharalyn Orbaugh, Head of the Department of Asian Studies, and Professor of Modern Japanese Literature and Popular Culture, started off the poetry event with a passionate and poetic video message. Here, she shared a Japanese poem on the theme of reunion in efforts to inspire others to conduct poetic reflections as well.
Dr. Sharalyn Orbaugh delivering her welcoming message

The event showcased a kaleidoscope of guest poetry presentations and student talent demonstrations. It also introduced the origins and traditions of the Lantern Festival and Lantern Festival-themed poetry, as well as engaging the participants with lantern riddles and Feihualing Relay. These activities formed the core of the event and promoted community engagement through intercultural and multilingual communications.  
Students from CHIN450+ literature courses similarly demonstrated outstanding talents through a great variety of artworks, such as photography, calligraphy, painting, self-composed poems, poetry recitals, original videos, and instrumental performances. The students' active and creative participation made the event exciting and inspi​​ring as they all brought the community together through their shared passion for classical poetic art forms.  
The Photography section exhibited a total of 30 photo submissions, one of which came from Zige Wu, whose work captured the striking beauty of a sunset. 
Photo by Zige Wu

Ruochen Feng's photo features two egrets suddenly meeting and then missing each other on the Green River. Through this picture, the photographer relates to the grief expressed in a lyre by the Xiang Shui goddess, which reflected on how egrets meet and miss each other in the flood of time. 
Photo by Ruochen Feng

In the Poetry section, 16 original poems and 20 poetry recitals were displayed. Argos Yao impressed the audience by sharing a touching poem about the nostalgia of traveling with his friends. Meanwhile, Shijia Sun composed a poem expressing his inner loneliness. In a few short lines, he describes the image of a man who looks towards reunion with others as a way to draw himself out of his gloom. Moreover, Feiyang Yu's self-composed poem features a vivid description of the early spring, and how it symbolizes revival in the new year, amongst hopeful visions of the lively summer.
Selected Original Poems from Argos Yao, Shijia Sun, and Feiyang Yu
Among the outstanding artworks in the Calligraphy and Painting section, Junhui Zhao's lovely and delicate brushstrokes depict a lively Chinese New Year scene. Bright lanterns set the festive mood, and the white bunnies showcases this year's significance of being the Year of the Rabbit. The joy of the festival is succinctly portrayed in this cute and upbeat atmosphere of the painting.
Xiaojiao Yuan's painting beautifully depicts two passengers embarking on a plane, where they are set against a sunrise. This scene touches on the hopeful start of a new life and journey, a touching tale which many people can relate to as they come out of the pandemic.
Painting by Xiaojiao Yuan
Jingyu Wu's calligraphy demonstrates a great understanding of this classical art form, where they have great dexterity in combining this visual art form with their interpretations of the poem's literary meaning. 
Besides the amazing works shown above, three wonderful poetry recitals also lit up the event. Han Chen recited an ancient poem by Meng Haoran, "Over the Old Man's Village", which describes the beautiful natural scenery of the countryside in a rich and serene way.
Poetry recital by Han Chen
Zhuoyu Wang recited "Nian Nujiao – Chibi Huai Gu" by Su Shi, a poet of the Song Dynasty. The passionate recitation brought the audience back to the Three Kingdoms period, where Zhou Yu, a military general and great strategist, heroically led his team to victory in the Battle of the Red Cliffs. The poem expressed the utmost respect to this hero as well.
Poetry recital by Zhuoyu Wang
Yiran Wang chose to recite "A Cut of Plum" by Li Qingzhao, which is a famous poem that also expresses a sense of sadness in missing one's family. Yiran's low tone and rich emotional dialogue poignantly carries across the message of the poem.
Poetry recital by Yiran Wang
Participants were also impressed by the singing of three participants. For example, Jiuhui Qin, covered the song, "So Loved".
Poetry recital by Yiran Wang
"The epidemic that has been going on for years has gradually subsided, and many people have finally been able to reunite with one another. Our circumstances of separation makes us cherish our reunion so much. The theme of reunion makes me reflect on how it is not easy to meet one another, and it is also harder to reunite."

Jiuhui Qin
Xinling Huang's opera song "Hard to, But" showed her interpretation on the theme of "reunion" from the perspective of traditional Chinese culture.
UBC alumni, Wendy Wu, sang "The Stars", a beautiful song that expresses good and optimistic wishes for a reunion with someone.
The 2023 Lantern Festival Poetry Event served as an ideal platform for all the participants to engage in intercultural communication; moreover, they celebrated the poetic tradition in multiple Asian languages, facilitated community connection, and promoted peer-to-peer learning. The event has played a crucial role in connecting professors with students, participants with the audience, and people from various cultural and linguistic backgrounds in a virtual context. It has also broadened new ways of engaging in literary poetic traditions, allowing students to reinterpret and perform poetry from different, but meaningful perspectives. Everyone's participation in innovative poetic presentations not only helped deepen their understanding of poetry, but it has also helped to revitalize classical poetic traditions to become more interesting and accessible to modern audiences. Although the pandemic influenced the event to take place online, the participants' creativity and the audience's dedicated engagement have made this year's event into a lively place of intercultural poetic communications. A big thank you to everyone who participated! 
Click here to view more excellent artworks from this year's Lantern Festival Poetry Event.