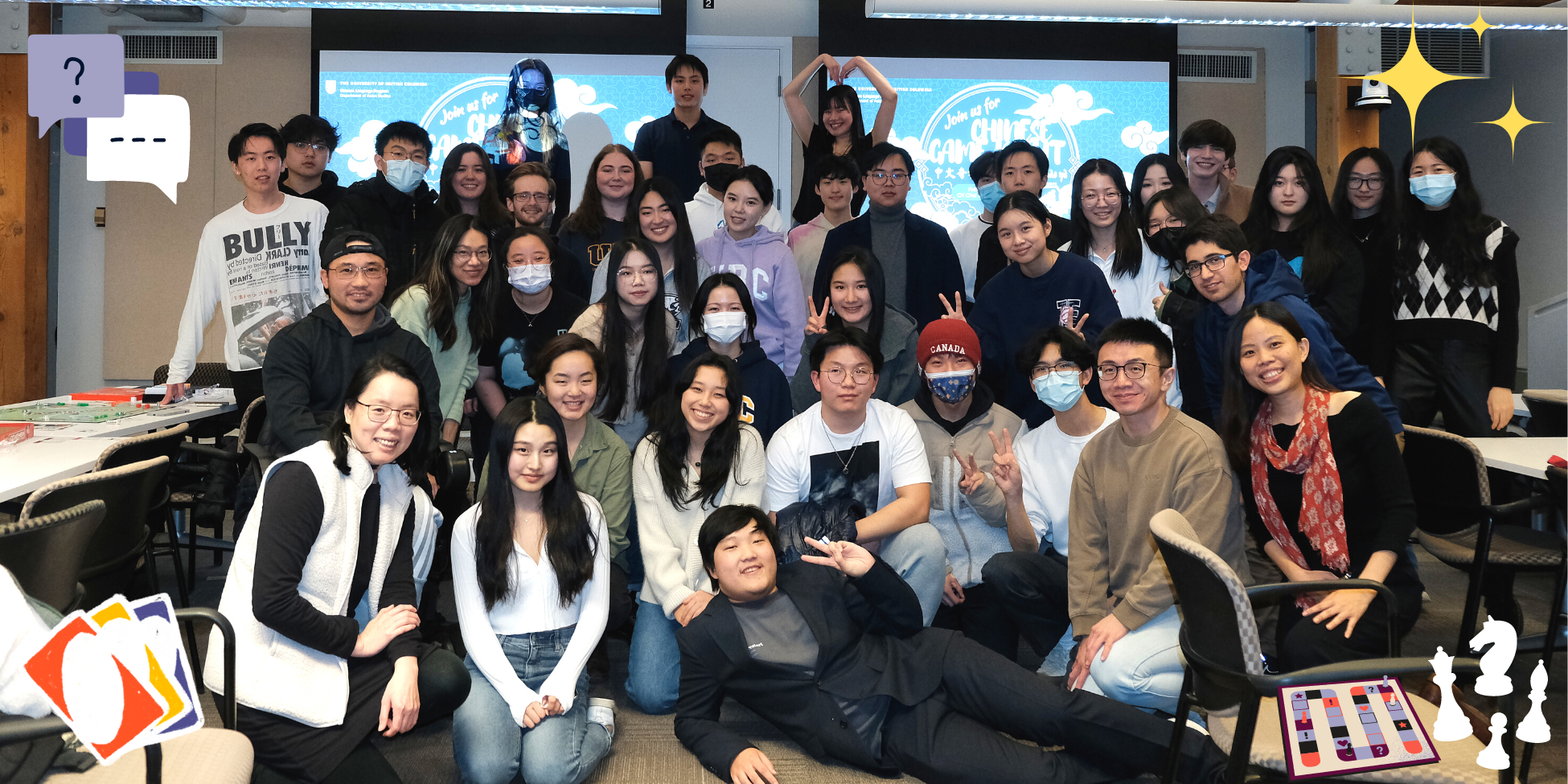 Another game night has come and gone, but the memories and laughter still linger.
Recently, the UBC Chinese Language Program hosted its 2023 annual Chinese Game Night on February 10th. This event brought together students from different language backgrounds, including heritage and non-heritage speakers, to socialize and have fun playing games with their peers, instructors, and volunteers. The only rule was that students had to communicate exclusively in Mandarin, allowing them to practice and reinforce their language skills while having a great time. We're thrilled to have provided our students with an opportunity to relax and enjoy themselves during midterms.
Students gathering for icebreaker games at the beginning of the event
At our latest game night, we had a fantastic mix of classic and new games that allowed us to bond over our shared love of board and card games. We played favorites such as Uno, Monopoly, Pictionary, Who Am I, "Hot Potato", and Chinese chess, which encouraged teamwork and language learning in a cohesive way. These familiar games were ingeniously adapted to create a fun and educational experience, allowing students to practice their Chinese vocabulary and language skills while playing. Despite the challenge of having to speak exclusively in Mandarin, the highly competitive nature of the games and students' eagerness to win made for an enthusiastic and active language-learning experience.
"Game-based learning can be highly beneficial for language learners, especially as it extends the learning experience beyond the classroom. Interactive games allow learners to focus on meaningful communication and achieving communicative objectives, rather than simply memorizing language rules. In addition to providing opportunities for socialization and immersion in Mandarin, games can incorporate cultural elements such as Chinese chess, which can help to deepen learners' understanding of Chinese culture. Overall, game-based learning is a win-win for our language education and learning community."

– Li-Jung Lee, Lecturer in Chinese Language
A collection of some of the games featured at the game night
The game night was a great success in achieving its goal of enhancing students' language skills and fostering a strong sense of community outside of the classroom. By participating in language games, students had the opportunity to practice and refine their language skills, including expanding their vocabulary, improving their grammar, and refining their pronunciation. The game night was an effective and enjoyable way to promote language learning and build a supportive community among learners.
Students and TAWLs playing a fun game of Guess Who
After the event, the Chinese Language Program saw a surge in submissions from students who created photo collages showcasing their key takeaways. This activity promoted creativity, reflection, and communication, which helped students solidify their learning and appreciate the value of immersive language learning.
Collage submission by Jessica Chen, a student from CHIN 143
"The CLP game night was an excellent opportunity to use what I learned in a public setting. Embarrassing as it was, knowing that others around you were feeling the same was comforting. I was with a friend, and we decided to play Guess Who and Monopoly. Using the cheat sheet we received, we learned many new phrases and how to say the zodiac in Chinese. I think that the Chinese Game Night was very fun and want to come back and play more!"

– Jessica Chen, a student from CHIN 143
Many Chinese learners believe that it is essential to practice the language outside of textbooks to gain a deeper understanding of the culture and daily customs of native speakers. Jessica Chen, a current student in CHIN 143, found the game night opportunity to be a great way to step out of her comfort zone and practice the skills and phrases she learned in class with peers in a different setting. Language practice can also be a rewarding personal experience, boosting self-confidence and providing a sense of accomplishment. As witnessed throughout the event, it is an enjoyable and fun way to challenge oneself and learn something new.
Xiangqi collage submission by Mattias Diederichsen, a student from CHIN 333
Students playing the Chinese chess game Xiangqi at the game night
"At the CLP's Chinese Game night, this was my first time playing it in real life. While playing, I also taught my friend some of the rules of Chinese Chess. I played two rounds and won the first because my friend did not quite understand the rules yet. However, I lost the second round, as my friend checkmated me, all because I thought "this is too easy." Maybe it wasn't so easy after all… I think this game night was really fun, I made new friends, and practiced my Chinese and Chinese chess skills."

– Mattias Diederichsen, a student from CHIN 333
Engaging in language games not only enhances language skills but also helps develop cognitive abilities such as problem-solving, critical thinking, and creativity. For instance, games like Guess Who and Gartic Phone require players to think on their feet and creatively develop words and images that fit a particular set of criteria, making the learning experience fun and challenging.
An essential learning outcome of the game night was to foster socialization among students from heritage and non-heritage courses. By dividing the students into small subgroups and encouraging them to play games together, they had an opportunity to build relationships, bond over shared interests, and practice communication skills in a relaxed and low-pressure environment. This experience provided a great opportunity to break down barriers and form new connections, creating a more inclusive and supportive language-learning community.
Monopoly collage submission by Dallan Hogenson, a student from CHIN 347
"I think it's very important to spend time with people from a different culture than your own. Even if it's just a relaxed game, you can learn from each other and develop mutual respect between Chinese and Western cultures. Playing board games together is a very enjoyable activity that allows friends and classmates to learn Chinese and build good relationships in a stress-free environment!"

– Dallan Hogenson, a student from CHIN 347
Lastly, the evening significantly increased motivation and engagement among students. Incorporating game-based learning into a language program provides a dynamic and interactive way for learners to practice their language skills, which can help maintain their interest and drive in the language learning process. As seen in the event, games provide a fun and engaging approach, encouraging active participation and enhancing language skills with enthusiasm and energy.
A group of students gathered to play Uno
This year's annual game night was a resounding success, achieving its goal of creating an inclusive, supportive, and engaging environment for active language learning and boosting students' confidence in speaking Mandarin. The turnout was fantastic, and the night was filled with laughter, competition, and bonding. By providing a fun and relaxed atmosphere, students were able to enjoy strategizing and battling it out in a variety of games while immersing themselves in the Chinese language and culture. We can't wait for the next game night and look forward to trying out more games with a Mandarin twist. Follow @ubcchinese to stay updated on future events.
Recap Video of Chinese Game Night 2023
Written by Samantha Ong
Edited by Angelia Tu
Photos by Junyi Xue and Zoey Yan
Recap Video by Manyi Chen