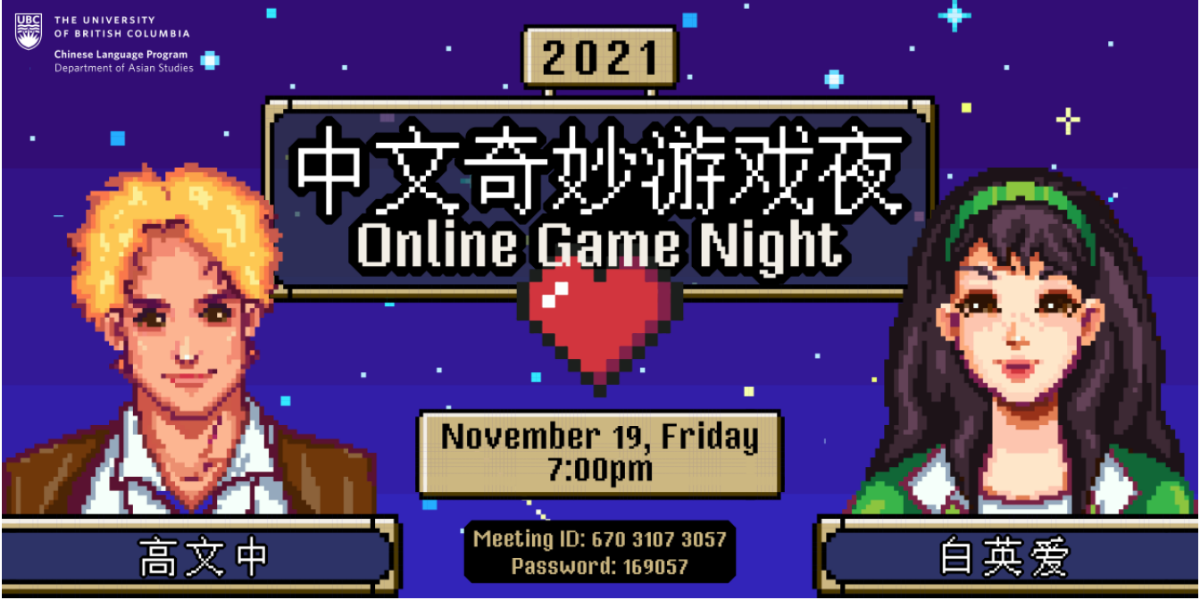 Poster graphic design/illustration: Ellen Gu
Education through entertainment, or edutainment, has become an increasingly important learning method for students to grasp a foreign language. During the process of language learning, it is pivotal that students enjoy their learning experiences and get motivated to achieve goals in relaxing contexts. Hence, learning languages through games becomes an effective pedagogy and makes language learning relatable to students.
To create an edutaining environment for their students to learn Mandarin and pertinent cultures, the Chinese Language Program held the 2021 Online Game Night on November 19 for its non-heritage learners. These students have had Mandarin learning experiences ranging from 3 months to 3 semesters. About thirty students attended the event and enthusiastically played each and every game. The participants actively interacted with their peers, had a great time together online, and gained a strong sense of support and community.
Participants who attended the Online Game Night
---
"Everyone was so supportive of each other including the professors, staff, and students…this motivated me to study harder and cultivate my Chinese skills!  But it was also a great learning experience for me to interact with other professors, and students from 200 level courses, [as well as] other sections of my CHIN 131 course."
– Kiichi Nagamine, a student from CHIN 131
---
The 2021 Online Game Night was themed around the Singles' Day in China, which falls on November 11 each year. By participating in the games during the event, students were able to help Gao Wenzhong confess his love to Bai Ying'ai and unlock some sweet memories of their first date through a pixel game. Both characters come from the non-heritage students' textbooks and relate the games to the participants' Mandarin-learning curricula. Many scenic spots on the UBC campus were also featured in the games, further connecting the attendants to their university life. 
The two hosts, Khushi and Kaelon, introducing the Singles' Day in China
Two non-heritage Mandarin learners hosted the 2021 Online Game Night. Khushi Nilesh, a second-year Linguistics student, and Kaelon Swanton, a fourth-year Korean Language student, opened the event by introducing the cultural significance of Singles' Day in China. Both hosts set a great example for their fellow non-heritage learners by demonstrating their advanced Mandarin proficiency. 
The hosts of Online Game Night: Kaelon Swanton (left) and Khushi Nilesh (right)
In the first game, the participants answered 11 Kahoot questions related to colloquial Mandarin idioms. Through these well-designed questions, the non-heritage learners quickly acquired some new Mandarin idioms and deepened their understanding of how the expressions were used in day-to-day contexts.
Participants answering Kahoot questions with their Mandarin knowledge
---
"I liked Kahoot the most…because they had meaningful idioms in them. After this game, I researched about Chinese idioms online, and I find it interesting that in Chinese culture, idioms are used in day-to-day life contexts… and they hold much significance in the Chinese language."
– Anouk Ganga, a student from CHIN 131
---
The second game invited the audience to participate in a Draw and Guess challenge and encouraged them to turn their passive vocabulary to an active one with the help of pictures. The students passionately volunteered to draw pictures with the annotation tool based on the Mandarin words they received, while the rest of the audience actively ventured the answers in Mandarin. The non-heritage learners worked together to solve each puzzle and connected with their peers meaningfully. This game effectively enabled the non-heritage speakers to hone their speaking and writing skills.
All the students actively participating in the chat box during the Draw and Guess challenge
The next game titled "One Sentence Storyboard" asked the attendants to use their imagination to form a creative sentence in Mandarin according to some given emojis. Apart from writing sentences, the participants also needed to mark their favorite ones with the annotation tool. Thus, the game encouraged the students to use their imagination and creativity when applying the target language, helping them enrich their language output and reading input. During this game, the participants were also reminded that there was no standard answer for each group of emojis, which closely abided by the pedagogical principle that "there is not only one correct answer." As a result, the students came up with a large number of creative sentences that were fun to read, and their interaction with other audience members were considerably enhanced.
A screenshot of the one-sentence-storyboard game
---
"My favourite game of the night was the one sentence storyboard game. This was a fun game because we were all free to use our imagination… and [this] freedom of imagination was a great opportunity to use my recently acquired Mandarin knowledge to form coherent sentences , [which] really boosted my confidence. It was great to see how far I have come in terms of [my] Chinese; reaching a point that I can form sentences expressing [in] what I see in a natural scenario. It was also fun to read the answers that other people gave and actually be able to understand what they had written [as well]."
– Anonymous Student from CHIN 131
---
In the last game, the students solved a series of situation puzzles by raising questions to the hosts and guessing either some keywords or the crux of a puzzling story in Mandarin. The participants excitedly raised questions and worked with each other to solve each puzzle. Not only did they acquire some new vocabulary during the process, but also practiced their speaking skills. The situation puzzles in this game greatly enhanced the participants' reading and speaking proficiencies in an entertaining manner.
The participants solving the puzzles by typing their answers in the chat box
Through the four games, these students at the beginner level gained greater confidence in learning Mandarin and discovered the broad learning horizon that the language offered them. The Chinese Language Program's instructors An-yi Lee, Pi-hua Lin, Shiang-han Lin, Sunnie Hsiang-ning Wang, and Zhaokun Xin were present throughout the event, providing praise, support, and encouragement for all participants as well as embodying the Program's supportive learning community.
---
"I attended game night without knowing what to expect. Since I am taking a 100 level Chinese course, I was a little bit nervous about participating. However, game night was fun and suitable for everyone. In a short period of time, I have learned so much about Chinese culture, [and] there were moments that I laughed out loud too."
– Shirun Wen, a student from CHIN 131
"The event was so fun! These casual community building opportunities [were great for] practic[ing] our Mandarin and interact[ing] with our classmates who share our interest in learning the Mandarin language. Thank you to the Chinese Language Program, who realize playing games, and forming friendships ([which are] my primary motivators for learning Chinese), are great community building exercises."
– Anonymous student from CHIN 131
---
The Online Game Night successfully integrated educational purposes into interactive online games to facilitate non-heritage students' Mandarin learning. The event enabled the students to gain greater confidence in listening to, speaking, reading, and writing Mandarin. They also learned how to use the language meaningfully in their daily life. The Online Game Night was brimmed with enthusiasm from students, staff, and professors throughout, which paved the way for similar edutainments at the Chinese Language Program for its Mandarin learners.
Written by Yuhan Guo
Edited by Shih-wei Wang