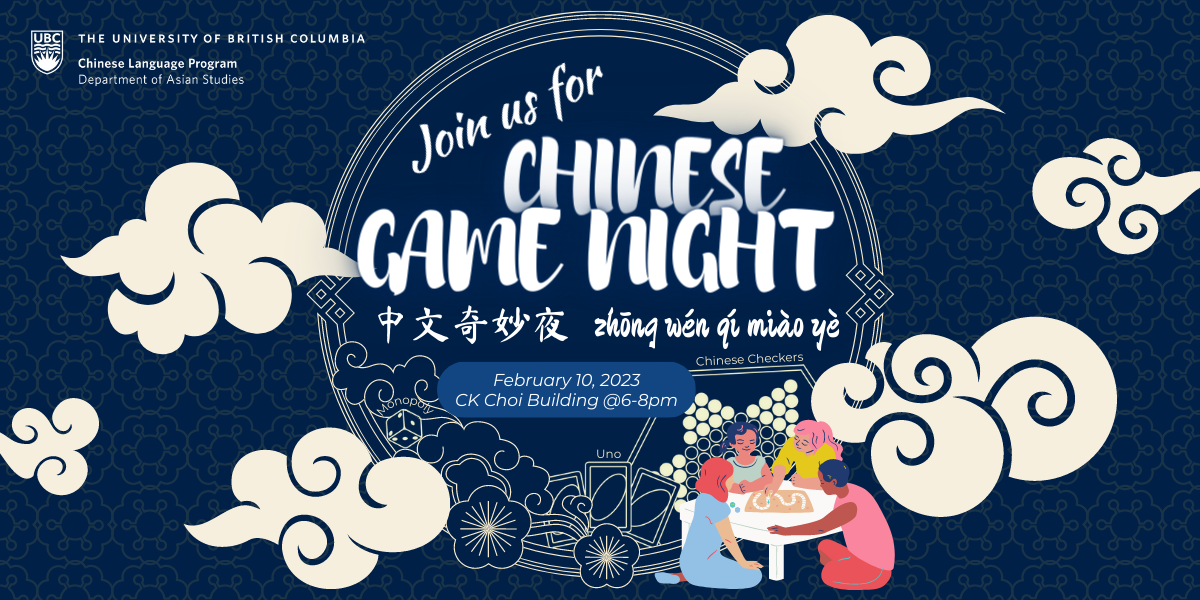 Join us for an interactive game night! Are you ready to win or lose?
中

文

奇

妙

夜

精彩不容错过
📆 When

📍 Where

 

❓ Who

Friday, Feb 10th
6:00 – 8:00PM PST


C.K. Choi Building




Conference Room

All CHIN 450- Students! (not including 450)

 
Bring back the nostalgic memories of gathering with friends at a heated game night and playing various card games and board games. Come join us on a Friday evening to meet new CLP friends, practice Chinese, and earn bonus marks for your CHIN courses!
For a night of fun, laughter, and friendly competition, you'll find familiar family games like Uno, Monopoly, and Pictionary, as well as others such as "Who am I", "Hot Potato", and "Telephone" that will encourage teamwork and Chinese learning. For an interesting twist, we have created new forms of "edutainment" by altering some typical game rules to incorporate more language practice.
Curious? Come have fun and take on the challenge!
⚓ Table of Contents
---
💡【Purpose】
To provide students with an opportunity to meet new friends and practice their language usage.
To help students relax through fun social activities during the stressful midterm season.
To enhance intercultural exchanges and communication in our language learning curriculum.
To showcase students' creativity skills by making a collage

(for bonus marks)

.
---
🗓

【Calendar】
SUN

MON

TUES

WED

THURS

FRI

SAT

2/5

2/6

2/7

2/8

2/9

2/10


Game Night @ 6PM



2/11
Submissions
begin!


2/12

2/13

2/14

2/15

2/16

2/17

2/18

2/19

2/20




Submissions




close!




2/21

2/22

2/23

2/24

2/25
---
✨【Bonus Marks: Picture Collage + Reflection Instruction

】
To apply a bonus mark towards your current CHIN course for participating in the Chinese Game Night, create and submit a mini collage that contains both pictures and new phrases/sentences you learned from the event. By submitting, you may have the opportunity to have your collage posted on the CLP's social media.
Submission Deadline: Monday, February 20th @ 11:59PM PST
✨ Key Elements of the Collage
The following points should be included in the collage.
Chinese words/phrases learned from the event incorporated in the collage and or text (see below for a breakdown of CHIN language proficiency).
Photos and creative elements (e.g. photos from the event, game-related images, clip art, other visual aids, etc.). To create a collage, check out these online software options for graphic design:

Optional to include: A title for your collage.
✨ Submission Format Options
Digital file (JPG or PNG) exported from your tablet/phone/computer.
A scanned version of your physical copy. For help on how to scan a physical document, read Creating a PDF.
NOTE: An aspect ratio of 1×1 (e.g. 1080 x 1080 pixels) is highly recommended.
✨ Submission Title
Collage Title in English_Course code + Section code_Name
Example: Game Night Collage_CHIN131 001_John Lee
✨ Reflection
A reflective portion (e.g. 2-3 sentences) on which game you liked the most or how the Chinese Game Night deepens your understanding of the Chinese community and culture. This reflection is submitted in the text box in the Qualtrics survey.
✨ Example
Check out this example collage below by Yichen, our WorkLearn student!
---
ℹ️

【Breakdown of Language Proficiency】

Based on the course you are taking, you are grouped into a corresponding challenge level as outlined in the table below.
Group 

Basic Level 

Intermediate Level 

Advanced Level 

Non-heritage

Language Class 

CHIN131, 133, CHIN233 
CHIN333, CHIN337 
CHIN403, CHIN407 

Heritage

Language Class 

CHIN143 , CHIN243
CHIN343, CHIN347, CHIN437, CHIN443 

Number of


New Phrases/ words

to include

At least 3 new phrases/ words in Chinese
Reflection written in at least 150 words in Chinese and English, including at least 5 phrases/ words from or relating to the event
Note: Students from CHIN388 can join ONE of the three groups which best suits their current language proficiency.
---
👉🏼【Instructions for Collage Submission】
Submission Deadline: Monday, February 20th @ 11:59PM PST
Step 1: Upload collage to Google Drive and obtain a link
Upload your submission to your own Google Drive, then get an editable link. Please make sure to set the link to "Editor" mode. 

If you are unsure of how to create an editable link, please refer to the following video for a demonstration of how to configure link-sharing:

Google Drive: Link sharing (anyone with the link can view/edit)

.

 

Please note that Google Drive is used for this event, so be aware of the privacy concerns related to Google and take precautions in using the service.
Step 2: Submit your work by completing the Qualtrics Survey
Submission Link: Chinese Game Night Qualtrics Survey
To fill in the survey, the following information is needed:

Your English full name, Chinese name, and current Chinese course and section number.
An editable Google Drive link to your submission.
NOTE: By participating in this activity, you give the Chinese Language Program the right to use and/or post your image and caption on our social media, website, and newsletter, unless you state otherwise in your submission. 
Step 3:Submit your work to your desired CHIN class's course Canvas page for bonus marks
Please discuss with laoshi for further details.
If you have questions or concerns about the challenge, please feel free to contact us at Chinese.event@ubc.ca.